Roy Rogers® Restaurants Creates Cal Ripken, Jr. Commemorative Cup
Commemorative cup to benefit Cal Ripken, Sr. Foundation
---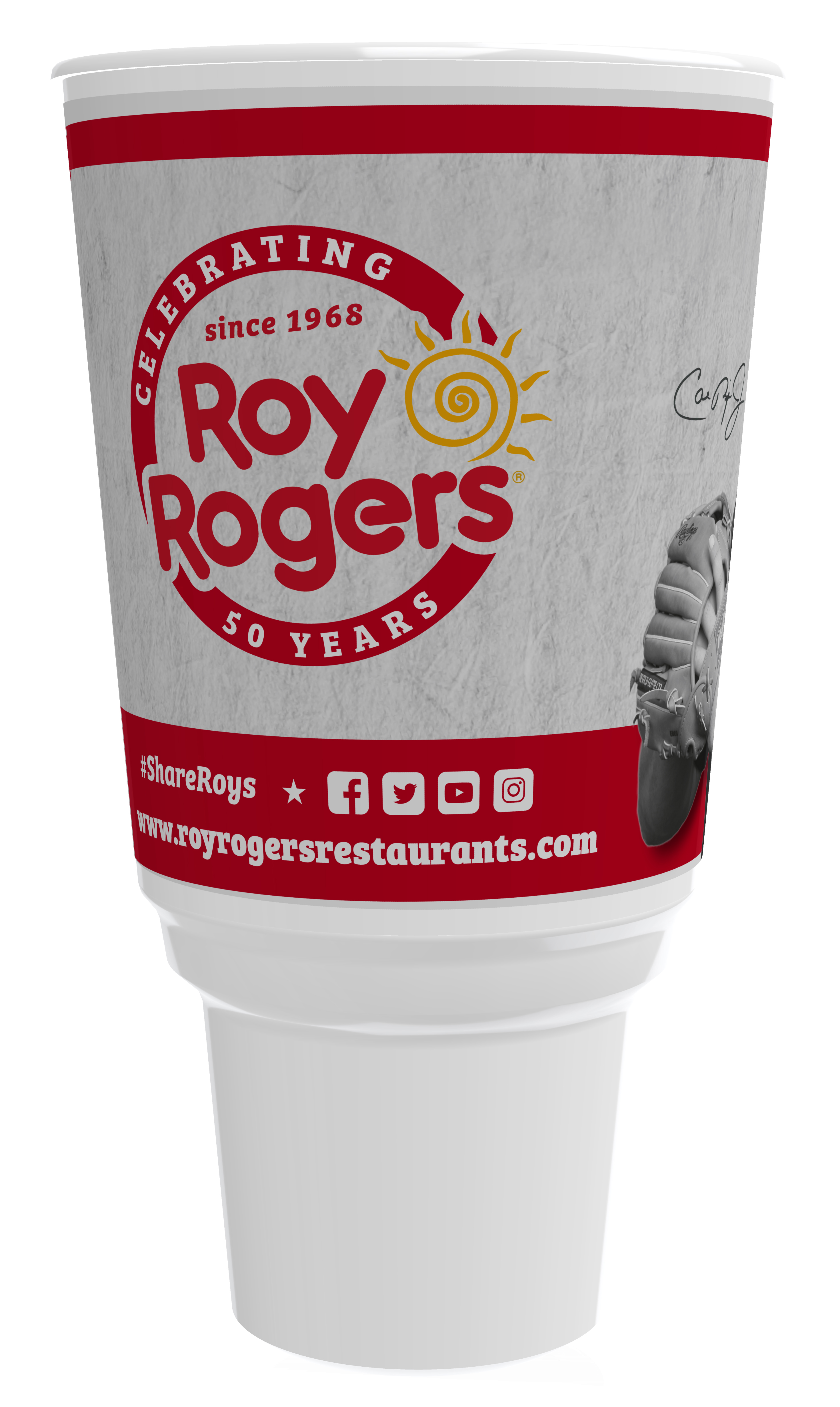 Roy Rogers®, an all-American, quick-service restaurant chain known in the industry for serving fresh, sliced to order, USDA choice top round slow roasted roast beef, fresh, hand-battered and breaded, never frozen, fried chicken and great tasting burgers with locations throughout the Mid-Atlantic region.
Roy Rogers® is continuing to celebrate its 50th anniversary by introducing a Cal Ripken, Jr. commemorative cup, just in time for summer. Starting on May 21, the 44 oz. cup will be sold in all freestanding Roy Rogers® Restaurants locations for $2.99, with the locations in Matamoras, PA; Franklin, NJ; and Flemington, NJ selling the 44 oz. cup for $3.19. All locations will donate $.50 from each cup sold to the Cal Ripken, Sr. Foundation. The cups will be available while supplies last. 
About Roy Rogers® Restaurants:
Based in Frederick, Md., Roy Rogers® is a chain of western-themed quick-service restaurants offering broad appeal across multiple dayparts and generations. The company is famous for serving up a "Triple Threat" – three popular main dishes including USDA choice top round roast beef, hand-breaded, fresh fried chicken and great-tasting burgers. Roy Rogers is also known for its famous Fixin's Bar®, where guests can customize their orders with a variety of fresh produce, condiments and signature sauces. Additional information on the company, its menu and current promotions is available at www.royrogersrestaurants.com and on Twitter, Facebook and Instagram.
About the Cal Ripken, Sr. Foundation:
For the last 17 years, the Cal Ripken, Sr. Foundation has worked tirelessly to implement youth development programs and create parks that directly address the problems facing at-risk youth in
distressed communities across the country. Inspired by one of the most iconic baseball families, the Ripkens created the Cal Ripken, Sr. Foundation to honor the legacy of its family patriarch, longtime coach, and mentor, Cal Ripken, Sr. The Ripken Foundation uses sports-themed activities to bring police officers, youth partners and underserved kids ages 9 – 14 together on a level playing field to learn invaluable life skills.
The Ripken Foundation's Youth Development Park Initiative creates clean, safe places for kids to play on multipurpose, synthetic surface fields that promote healthy living in an outdoor recreational facility. Today, the Ripken Foundation has 74 completed parks across the country in 21 states, impacting over 280,000 kids annually. In 2017, the Ripken Foundation impacted over 1.4 million kids nationwide through its Youth Development Park and mentor programs. For more information, visit www.RipkenFoundation.org. Follow us on Facebook, Twitter and Instagram @CalRipkenSrFdn.