Roy Rogers Announces Exclusive Partnership With DoorDash
Popular Western-Themed Restaurant Chain Rolls Out Partnership to All Company-Operated Locations and Celebrates with a Special Limited-Time Offer Featuring its New Chicken Tenders
---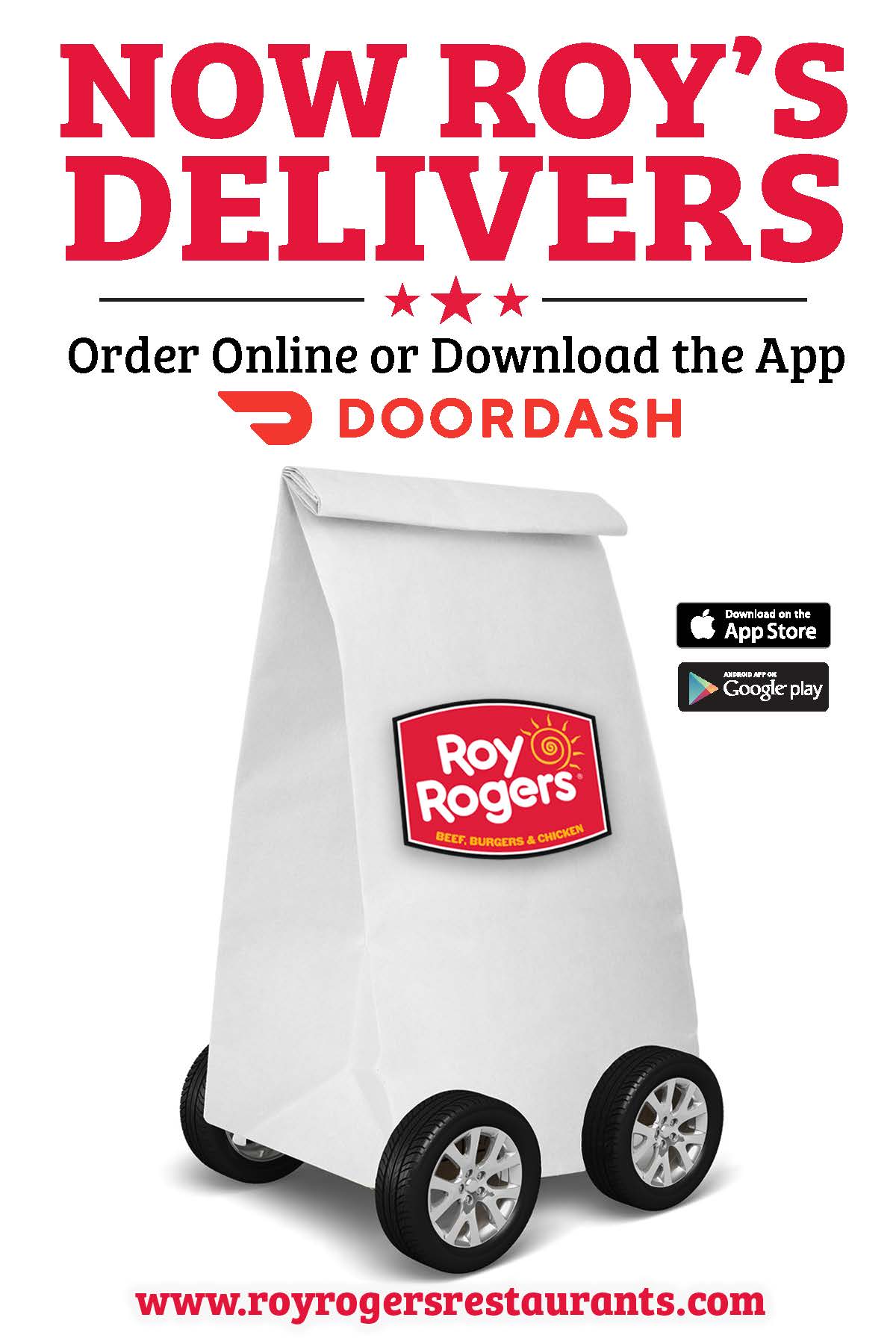 FREDERICK, Md. (July 8, 2019) – Fans of Roy Rogers® Restaurants now can enjoy their favorite foods from the western-themed restaurant chain's menu without ever leaving their workplace, home, or any other address, thanks to an announcement today that the legendary brand has partnered exclusively with DoorDash, the largest and fastest-growing on-demand destination for door-to-door delivery in more than 4,000 cities in the United States and Canada. Company-operated Roy Rogers restaurants in Maryland and Virginia are now offering food delivery through DoorDash, and franchise locations will be added soon. In celebration of the new service, Roy Rogers is offering free 3-piece Chicken Tenders to the first 2,000 DoorDash delivery orders of $5 or more, with code RRDELIVERY today through July 14.*
Those with cravings for Roy Rogers' breakfast selections, Double R Bar Burger, Gold Rush Chicken Sandwich, Fried Chicken, Roast Beef Sandwich, Texas Pete® Spicy Chicken Sandwich and other items will now find it easier than ever to satisfy their desires by having their orders brought directly to them. Customers can order at www.DoorDash.com or download the DoorDash app for Android or iOS.
"We continue to invest in strategies to get the great taste and high quality of Roy Rogers food into the hands of Royalists and newcomers alike," said Jeremy Biser, executive vice president of Roy Rogers. "We recently updated our restaurant design to attract more people to dine in or drive-thru. Partnering with DoorDash is a great complement to that strategy, giving our fans the option to have the food come to them."
Roy Rogers selected DoorDash as its exclusive delivery partner, Biser said, because the high-profile brand shares the chain's emphasis on delivering a high-quality dining experience, wherever it may occur.
"Our brand is built around quality," said Biser. "It was imperative in adding delivery that we not lose that edge. We want our orders to be as accurate and our food to be as fresh, delicious and satisfying whether our guest is dining on-site or anywhere else. DoorDash shares that commitment, so we feel confident our customers' high expectations will be fulfilled."
A Special Offer to Celebrate Upgrades in Food and Service
In addition to kicking off its partnership with DoorDash, the special offer of free 3-Piece Chicken Tenders orders to the first 2,000 customers who place delivery orders of $5 or more also heralds the arrival of Roy Rogers' new Chicken Tenders, an upgraded selection made from larger, more tender, cuts of fresh-never-frozen chicken that is hand-battered on-site using Roy Rogers proprietary breading. Available in 3-, 4- and 8-piece standalone and combo orders or in 20-, 50- and 100-piece orders for catering, the new Chicken Tenders are offered with a choice of sauces including Sweet Baby Ray's® barbecue sauce, ranch, sweet & sour, buffalo and honey mustard. On-site diners also can choose sauces from the Roy Rogers Fixin's Bar, including Boom Boom Sauce, Texas Pete® hot sauce, and Roy's specialty barbecue sauce.
"We're thrilled to be introducing our new and improved Chicken Tenders in conjunction with the launch of our DoorDash partnership," said Biser. "We've made a concerted effort to give our guests a better choice in chicken tenders, and we're confident this new recipe will be a fan favorite featured in many delivery – and dine-in – orders."
Roy Rogers plans to expand its partnership with DoorDash beyond Maryland and Virginia in the near future. For a list of participating locations, visit www.DoorDash.com or download the DoorDash app for Android or iOS. Information on Roy Rogers' menu, locations and special promotions can be found at www.royrogersrestaurants.com or by following @RoyRogersRestaurants on Facebook and Instagram and @RoysRestaurants on Twitter.
#
About Roy Rogers® Restaurants
Roy Rogers® is a chain of western-themed quick-service restaurants offering broad appeal across multiple dayparts and generations. Founded in 1968, the company is known for serving up a "Triple Threat" – three popular main dishes including USDA choice top round roast beef, hand-breaded, fresh fried chicken and great-tasting burgers – and for its famous Fixin's Bar®, where guests can customize their orders with a variety of fresh produce, condiments and signature sauces. Information on the company, its menu and current promotions is available at www.royrogersrestaurants.com and on Twitter, Facebook and Instagram. Franchise opportunities are available in select markets to qualified candidates. Information about existing opportunities can be found at www.royrogersfranchising.com or obtained by contacting the Roy Rogers franchising department at franchise@royrogersrestaurants.com or (301) 695-1534.
About DoorDash
DoorDash is a technology company that connects customers with their favorite local and national businesses in over 4,000 cities and all 50 states across the United States and Canada. Founded in 2013, DoorDash empowers merchants to grow their businesses by offering on-demand delivery, data-driven insights, and better in-store efficiency, providing delightful experiences from door to door. By building the last-mile delivery infrastructure for local cities, DoorDash is bringing communities closer, one doorstep at a time. Read more on the DoorDash blog or at www.doordash.com.
* Offer valid for one (1) 3-Piece Chicken Tenders, while supplies last. Offer valid through July 14, 2019 at participating locations. Valid only on orders with a minimum subtotal greater than $5, excluding taxes and fees. Not valid for pickup or dine-in. Limit one per person. Fees, taxes, and gratuity apply. All deliveries subject to availability. Must have or create a valid DoorDash account with a valid form of accepted payment on file. No cash value. Non-transferable. Use promo code RRDELIVERY to redeem. See full terms and conditions at dasherhelp.doordash.com/offer-terms-conditions.