Roy Rogers Launches New Beer-Battered Cod Sandwich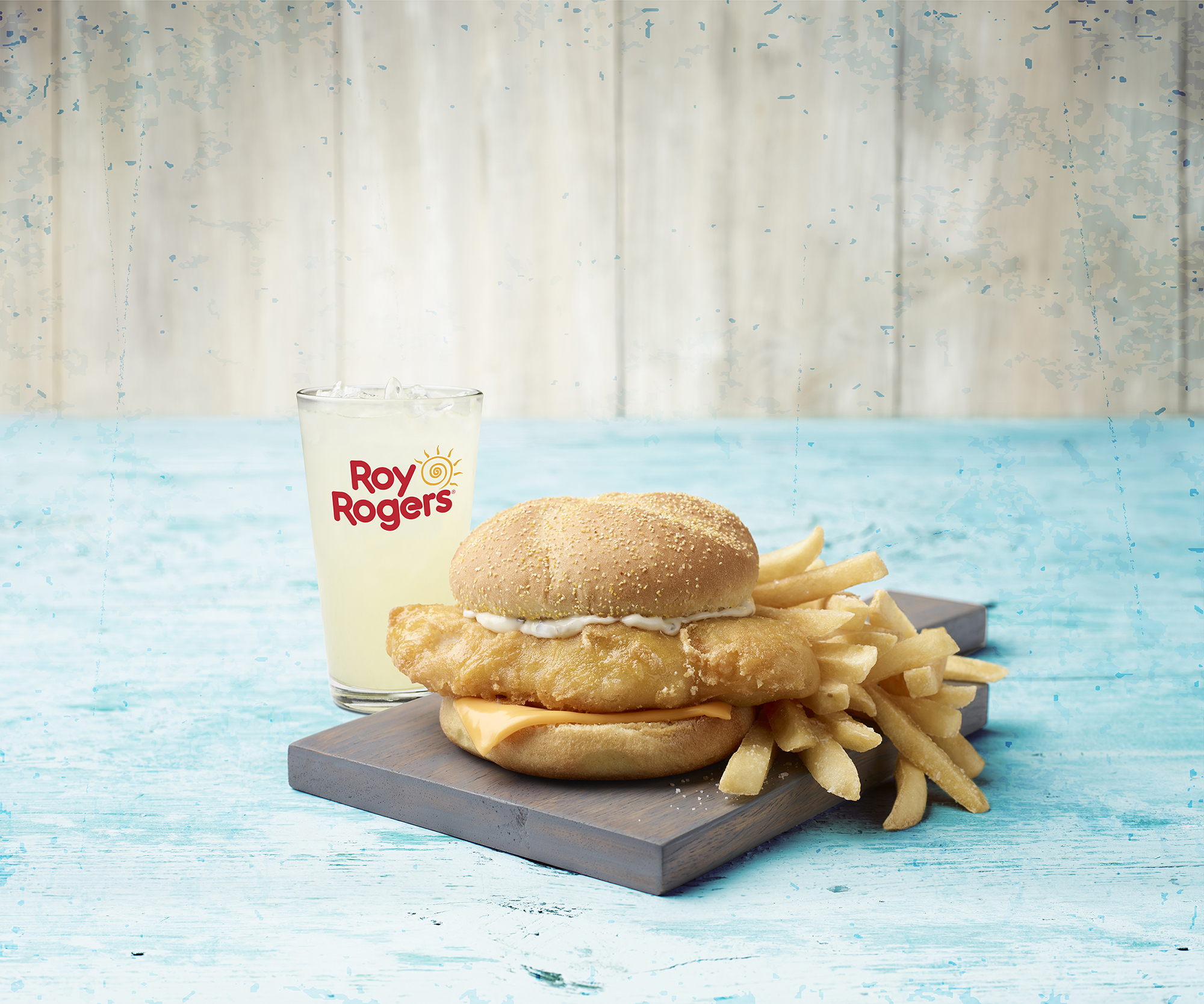 ROY ROGERS® LANDS BIG FISH FLAVOR WITH NEW BEER-BATTERED COD SANDWICH
Just in Time for Lent, Western-Themed Quick-Service Chain Introduces
New Fish Offering Featuring Fillets Covered with Yuengling®-Accented Coating
FREDERICK, Md. (February 16, 2021) – As the season of Lent arrives, Roy Rogers® Restaurants has introduced a new sandwich certain to satisfy guests fishing for a tasty new seafood option. Available now through April 4, the Beer Battered Cod Sandwich features a quarter-pound natural-cut cod fillet coated in Yuengling®-infused batter, topped with American cheese and tartar sauce and served on a corn-dusted Kaiser roll. Portion packs of malt vinegar are also available upon request. Pricing at participating locations is $5.99 for a standalone sandwich or $8.49 for a combo meal including a side and regular-sized fountain beverage. A platter with two full-sized pieces of battered cod, a small order of fries and a second side is also available for $10.99.
"We're very excited to debut our Beer Battered Cod as a new choice for guests seeking fish as an alternative to chicken or beef," says Mark Jenkins, senior director of marketing for Roy Rogers. "We worked hard to find a delicious flavor profile to distinguish our latest limited-time offering and are confident it will be a hit both with full-time fish lovers and those abstaining from eating meat during this holiday season."
Incorporating Yuengling beer batter in its new sandwich recipe is the latest instance of Roy Rogers including a brand-name ingredient on its menu. Previous rollouts have included the Texas Pete® Spicy Chicken Sandwich featuring the popular hot sauce, a bacon cheeseburger with Duke's® chipotle ranch sauce joining Jalapeño poppers and pepper jack cheese, and a Brisket Burger Melt combining Roy Rogers' juicy cheeseburger with shredded Smithfield® brisket, grilled onions and a tangy barbecue sauce. In addition, Edy's® ice cream has been the featured brand in all Roy Rogers shakes for several years.
"Our guests are selective in their tastes and loyal to brands," explains Jenkins. "Yuengling is a Pennsylvania brand loved throughout the MidAtlantic region that our restaurants serve. We expect this sandwich to go over very well throughout our system."
Further information on the new sandwich as well as the complete Roy Rogers menu can be found at www.royrogersrestaurants.com.
About Roy Rogers® Restaurants:
Based in Frederick, Md., Roy Rogers® is a chain of western-themed quick-service restaurants offering broad appeal across multiple dayparts and generations. The company is famous for serving up a "Triple Threat" – three popular main dishes including USDA choice top round roast beef, hand-breaded, fresh fried chicken and great-tasting burgers – and for its famous Fixin's Bar®, where guests can customize their orders with a variety of fresh produce, condiments and signature sauces. Information on the company, its menu and current promotions is available at www.royrogersrestaurants.com and on Twitter, Facebook and Instagram.
Founded in 1968, Roy Rogers currently consists of 22 company-owned restaurants and 25 franchise restaurants in six states. Qualified franchise investors are now being sought to develop the beloved brand. Franchise information can be found at www.royrogersfranchising.com or by contacting the Roy Rogers franchising department at gkoffler@royrogersrestaurants.com or (240) 454-2149.