Roy Rogers Rolls Out New Big Sky Burger and Beer Battered Onion Rings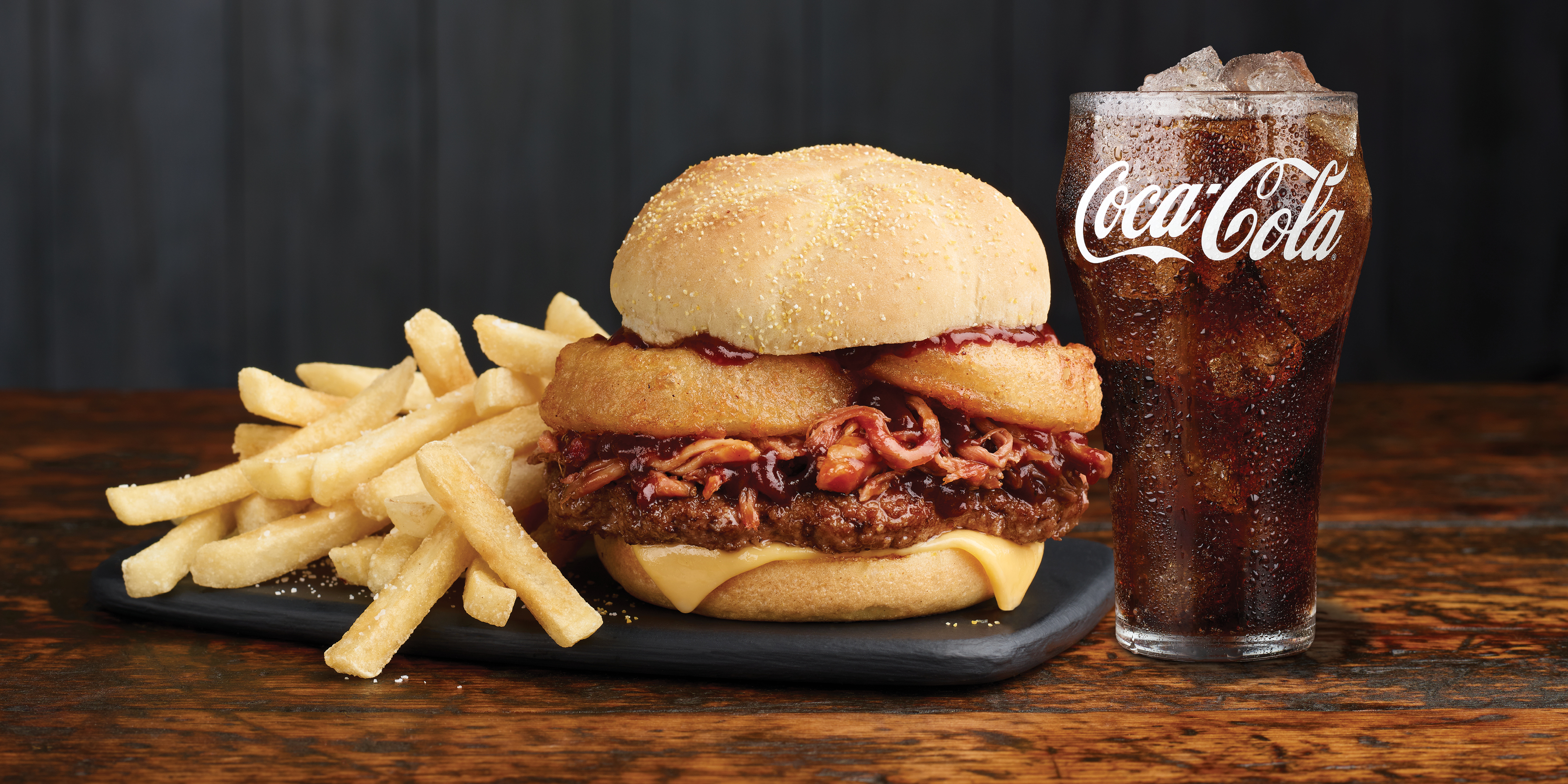 ROY ROGERS® Rolls Out Big News in Burger Options
FREDERICK, Md. (April 5, 2021) – Roy Rogers today introduced its latest LTOs created to lure new and long-time fans alike in a BIG way. Available through June 6, the Big Sky Burger features Smithfield pulled pork, Beer Battered Onion Rings and Duke's Georgia Sweet Heat barbecue sauce atop a  1/4-lb. burger served on a corn-dusted Kaiser roll. Suggested retail price is $5.99 or $8.79 for a combo meal. Roy Rogers also has rolled out Beer Battered Onion Rings, a nearly 1/4-lb. (5-6 rings) holster of succulent onion rings served with Duke's Georgia Sweet Heat barbecue sauce on the side for dipping. The rings are available as a side throughout its "Big Sky" event. Suggested price is $2.99 and the side can be included in any combo.
"We're rolling into spring with big news," says Mark Jenkins, Senior Director of Marketing at Roy Rogers. "Our Big Sky Burger is unlike anything our guests have ever tried at Roy Rogers, and our Beer Battered Onion Rings are sure to please every ring lover. Both feature a zesty accent with Duke's Georgia Sweet Heat barbecue sauce. We are delighted to bring these bold new choices to our loyal fans. At the same time, we are extending the availability of our previous limited-time offers, featuring our Beer Battered Cod Sandwich and Fish Platter, which were both a big hit."
Further information on the new sandwich as well as the complete Roy Rogers menu can be found at www.royrogersrestaurants.com.
About Roy Rogers® Restaurants:
Based in Frederick, Md., Roy Rogers® is a chain of western-themed quick-service restaurants offering broad appeal across multiple dayparts and generations. The company is famous for serving up a "Triple Threat" – three popular main dishes including USDA choice top round roast beef, hand-breaded, fresh fried chicken and great-tasting burgers – and for its famous Fixin's Bar®, where guests can customize their orders with a variety of fresh produce, condiments and signature sauces. Information on the company, its menu and current promotions is available at www.royrogersrestaurants.com and on Twitter, Facebook and Instagram.
Founded in 1968, Roy Rogers currently consists of 22 company-owned restaurants and 25 franchise restaurants in six states. Qualified franchise investors are now being sought to develop the beloved brand. Franchise information can be found at www.royrogersfranchising.com or by contacting the Roy Rogers franchising department at gkoffler@royrogersrestaurants.com or (240) 454-2149.