Roy Rogers® Restaurants Renews Its Lifelong Relationship With The Coca-Cola Company
Moving Past Its 50th Anniversary, Legendary Western-Themed Chain Moves to Preserve Brand Consistency and Tap Deep Consumer Insights to Meet and Exceed Customer Expectations
---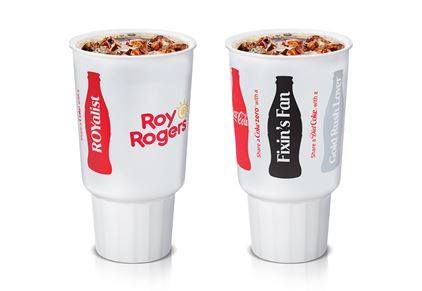 FREDERICK, Md. (January 28, 2019) – Roy Rogers® Restaurants announced today that it has signed a renewed, multi-year agreement naming The Coca-Cola Company as its official and primary fountain and bottled beverage supplier. The Maryland-based chain, which celebrated its 50th anniversary in 2018, will offer Coca-Cola and its family of brands at its company and franchise locations and at future locations as they open.
Coca-Cola has been the featured beverage brand at Roy Rogers since the chain's debut in 1968. The flagship beverage and its diet counterpart are the top two beverages sold at Roy Rogers, followed closely by Fanta Birch Beer, also supplied by Coca-Cola. As the chain moved past the half-century mark, executives at the company felt it was important to preserve the integrity of the Roy Rogers brand offering and the experience generations of loyal Roy Rogers fans have come to expect.
"Our guests have long enjoyed pairing a Coca-Cola beverage with their favorite Roy Rogers meals," said Jeremy Biser, executive vice president of Roy Rogers. "Making sure that we exceed their expectations with quality products that they know and love is essential. That's why we're thrilled to be kicking off the next phase of our journey in continued partnership with Coke."
The renewed relationship also establishes Coca-Cola as a partner to the Roy Rogers marketing team. Roy Rogers will tap Coke's expertise in consumer insights, social and digital media tactics, location-based consumer analytics, and delivery and other off-premise strategies.
"Coca-Cola has some of the most talented and experienced marketers in the world, and we are excited to have the opportunity to leverage this expertise to help us continue to grow as a brand," said Mark Jenkins, Senior Director of Marketing for Roy Rogers.
More than 75% of Roy Rogers guests purchase a beverage with their meal, representing one of the highest incidence rates in the industry. Biser said that continuing its partnership with
Coca-Cola will help Roy Rogers maintain and leverage that statistic, enhance brand relevance and achieve the company's strategic goals.
"As we look to the future, it will be critical for us to partner with organizations that share our values and commitment to quality," he said. "Coca-Cola has been a valued partner for more than 50 years, and we look forward to working with them to build on that relationship for years to come."
About Roy Rogers® Restaurants:
Based in Frederick, Md., Roy Rogers® is a chain of western-themed quick-service restaurants offering broad appeal across multiple dayparts and generations.  The company is famous for serving up a "Triple Threat" – three popular main dishes including USDA choice top round roast beef, hand-breaded, fresh fried chicken and great-tasting burgers.  Roy Rogers is also known for its famous Fixin's Bar®, where guests can customize their orders with a variety of fresh produce, condiments signature sauces.  Additional information on the company, its menu and current promotions is available at www.royrogersrestaurants.com and on Twitter, Facebook and Instagram.
Roy Rogers Restaurants was founded in 1968, and currently consists of 24 company-owned restaurants and 26 franchise restaurants in six states.  Franchise opportunities are now available in select markets to qualified candidates. Information about existing opportunities can be found at www.royrogersfranchising.com or obtained by contacting the Roy Rogers franchising department at franchise@royrogersrestaurants.com or (301) 695-1534.
#
Contact:
Greg Pitkoff                                                                                                       
GRiP Communications LLC                                                                           
(718) 404-9277